Harrison School of Pharmacy
Faculty and Staff Directory
---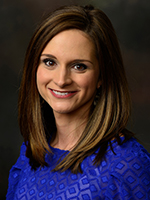 Alison Baker
Coordinator of Distributive Services, CHS
Pharmacist in Charge, Employee Pharmacy
Unit: Clinical Affairs and Outreach
Auburn University
Harrison School of Pharmacy
2150 Walker Building
Auburn, AL 36849
Email: alison.baker@auburn.edu
Phone: 334-844-8938
Fax: 334-844-8983
---
Bio
Education:
---
Alison Baker, Pharm.D., is the dispensing pharmacist and pharmacy manager at the Auburn University Employee Pharmacy and also serves as the Distributive Services Coordinator for the three dispensing pharmacies in Clinical Health Services. She joined the AU Employee Pharmacy in January, 2016 after spending more than five years with Walgreens.
As the pharmacy manager, she serves as the primary pharmacist clinical practitioner, supervises all pharmacy employees, and ensures compliance with all required documentation and record keeping. In her role as Distributive Services Coordinator, Dr. Baker has oversight of the three dispensing pharmacies, two of which are in Auburn for AU Employees and Students, and one of which is in located in Montgomery for State Employees.
A lifelong Auburn fan, she moved to The Plains when she was 5 years old. She did her undergraduate work at Auburn and completed her Pharm.D. at the Harrison School of Pharmacy in 2010.
Upon graduation, she worked with Walgreens, initially as a floater pharmacist throughout Auburn, Opelika, Montgomery and Columbus, Georgia. She accepted a position as staff pharmacist at a store in Columbus, Georgia, a position she held for two years before being chosen to transfer to the store in Opelika. She served in the Opelika store until assuming her position in the AU Employee Pharmacy.
Alison is married to Chris, a 2006 Auburn graduate. They have two children: Hayes and Avery.
---