Harrison College of Pharmacy
Faculty and Staff Directory
---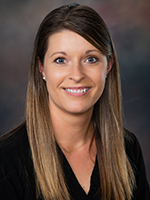 Beth Holden
Clinical Nurse III
Department: Clinical Affairs and Outreach
State Wellness Center
101 South Union Street
Montgomery, AL 36104
Email: ehh0023@auburn.edu
Phone: 334-263-8460
Fax: 334-263-8660
---
Bio
Education:
B.S., Nursing - Troy, 2007
---
Beth Holden, RN, BSN is a clinical nurse in the State Wellness Center in Montgomery. In her position, she provides professional nursing support as well as direct patient care. She triages patients, administers injections, collects labs, and coordinates medical care with other providers as needed. As team lead of the nursing staff, she is also responsible for administrative duties such as nurse scheduling and ordering of clinic supplies.
Holden received a bachelor of science in nursing from Troy University in 2007.
A native of Pintlala, Alabama, Holden is married to her husband, Blake, and they have three children.
---