Harrison School of Pharmacy
Faculty and Staff Directory
---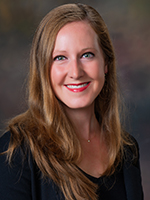 Brianna Foster
Program Administrator
Unit: Alumni and Professional Affairs
Auburn University
Harrison School of Pharmacy
2228 Walker Building
Auburn, AL 36849
Email: b.foster@auburn.edu
Phone: 334-844-8371
Fax: 334-844-8353
---
Bio
Education:
B.A., Psychology - Auburn, 2010
---
Brianna Foster is the Program Administrator for the Office of Alumni and Professional Affairs in the Harrison School of Pharmacy. She initially joined the school in 2018 as Development Coordinator in the school's Office of Development, and moved into her current position in August of 2021.
As the Program Administrator, Foster directs all aspects of the continuing education program for the Harrison School of Pharmacy and supports alumni and professional affairs related programs and services for the school.
Prior to moving into this position, she spent three years as HSOP's Development Coordinator where she was heavily involved in growing engagement and stewardship initiatives for the school's alumni and donors. She acted as liaison for the HSOP Dean's Advisory Council and Auburn Pharmacy Alumni Affiliate, along with directing and promoting HSOP's Annual Fund and student giving projects.
A 2010 graduate from Auburn with a bachelor of arts degree in psychology, Foster spent six years in the special events and hospitality industry at the Auburn University Club and Auburn University's College of Liberal Arts. During her time as event coordinator, she implemented and executed policies and procedures for new facilities as an initial position holder, including, event planning and scheduling, and service execution. Foster has developed relationships across campus and in the community by upholding a high standard for quality and the patron experience.
Foster and her husband, David, are both Auburn natives and have a son, Cullen.
---