Harrison School of Pharmacy
Faculty and Staff Directory
---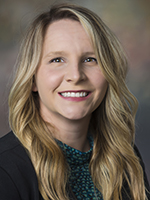 Courtney Watts Alexander
Assistant Professor of Clinical Pharmacogenomics
Ambulatory Clinical Pharmacist
Units: Pharmacy Practice, Clinical Affairs and Outreach
Auburn University
Harrison School of Pharmacy
2135 Walker Building
Auburn, AL 36849
Email: csw0015@auburn.edu
Phone: 334-844-1230
Fax: 334-844-4019
---
Bio
Education:
B.S., Biological Sciences - Alabama, 2008
Pharm.D. – Auburn, 2013
---
Courtney Watts Alexander, Pharm.D., BCPS, BCOP, joined the Harrison School of Pharmacy as an Assistant Professor of Clinical Pharmacogenomics in the Department of Pharmacy Practice on August 1, 2020. Her practice site is the Auburn University Pharmaceutical Care Center (AUPCC) where her work will focus in the area of Pharmacogenomics.
Dr. Alexander grew up in Daleville, Alabama. After earning a Bachelor of Science in Biological Sciences from the University of Alabama in 2008, she went on to complete her Doctor of Pharmacy degree from the Auburn University Harrison School of Pharmacy.
Following graduation, she completed a PGY1 pharmacy residency at the University of Texas MD Anderson Cancer Center in Houston, Texas and a PGY2 oncology residency at St. Jude Children's Research Hospital in Memphis, Tennessee. Dr. Alexander became a Board Certified Pharmacotherapy Specialist (BCPS) in 2014 and a Board Certified Oncology Pharmacist (BCOP) in 2016.
Prior to joining the Harrison School of Pharmacy, Dr. Alexander worked at Prisma-Health Upstate (formerly Greenville Health System) in Greenville, South Carolina where she served as a Clinical Pharmacy Specialist in Pediatric Hematology/Oncology. In conjunction with this position, she served as an Affiliate Clinical Assistant Professor with the University of South Carolina School of Medicine Greenville and an Adjunct Assistant Professor with the University of South Carolina College of Pharmacy.
Dr. Alexander is an active member in the American College of Clinical Pharmacy (ACCP) and the American Society of Health-System Pharmacists (ASHP). She currently serves as content expert reviewer in the ACCP/ASHP Oncology Preparatory Review and Preparation Course for those wishing to become board certified in oncology pharmacy. Her clinical and research interests include pediatric and adult oncology and pharmacogenomics.
She and her husband Jason live in Auburn with their two dogs.
---