Harrison School of Pharmacy
Faculty and Staff Directory
---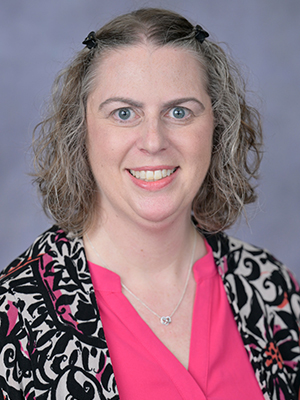 Erika Kleppinger
Associate Clinical Professor
Unit: Pharmacy Practice
Auburn University
Harrison School of Pharmacy
1330l Walker Building
Auburn, AL 36849
Email: kleppel@auburn.edu
Phone: 334-844-8281
Fax: 334-844-4410
---
---
Bio
Education:
Pharm.D. - Philadelphia College of Pharmacy, 2001
---
Erika L. Kleppinger, Pharm.D., BCPS is an Associate Clinical Professor in the Department of Pharmacy Practice. Since joining the faculty at the Harrison School of Pharmacy in 2003, she has practiced in several ambulatory care practice settings, coordinated and taught in a variety of skills laboratory activities, and worked passionately on curriculum development and revision.
Dr. Kleppinger graduated from the Philadelphia College of Pharmacy in 2001 with a doctor of pharmacy degree. After graduation, she completed two years of post-graduate residency training – a Pharmacy Practice residency at Temple University Hospital and a Primary Care specialty residency at the Philadelphia College of Pharmacy in association with the Philadelphia VA Medical Center. In 2003, Dr. Kleppinger became a Board Certified Pharmacotherapy Specialist (BCPS) and from 2006-2016 she was a Certified Diabetes Educator (CDE).
During the first seven years after joining the faculty of HSOP, Dr. Kleppinger practiced as a Clinical Pharmacist Specialist at the Central Alabama Veterans Health Care System (CAVHCS), managing patients with diabetes and lipid abnormalities. Additionally she practiced as a Clinical Pharmacist in the Auburn University Pharmaceutical Care Center (AUPCC) for two years assisting with wellness screenings and medication management education.
Currently Dr. Kleppinger dedicates most of her time to skills activity coordination and assessment with Objective Structured Clinical Exams (OSCEs) and other performance-based assessments. She teaches in many areas of the Practice-Ready Curriculum, including patient assessment skills, communication skills (specifically assessing patient understanding and new prescription counseling), the pharmacists' patient care process, self-care, dermatology, cough and cold management, and immunization certification training. She also serves as a Skills Coordinator and a Learning Experience Coordinator for the first professional year of the PharmD program.
She was honored with the Preceptor of Excellence Award for the Auburn/Montgomery Region in both 2006 and 2010, Outstanding Teacher Award for the Harrison School of Pharmacy in 2010, and the Harrison School of Pharmacy WOW Award in 2014. Her outreach efforts include coordinating the Resident Teaching and Learning Program (RTLP) offered by the Harrison School of Pharmacy to pharmacy residents across three states, mentoring pharmacy residents in various teaching activities, and assisting with the creation and implementation of a summer Pharmacy Camp for high school students.
Dr. Kleppinger is active in the American Association of Colleges of Pharmacy (AACP). She has served on several committees within the Section of Teachers of Pharmacy Practice and the Council of Faculties. She is also an active member and previous chair of the Laboratory Instructors Special Interest Group within AACP and has been invited to present on several skills-based topics.
---