Harrison School of Pharmacy
Faculty and Staff Directory
---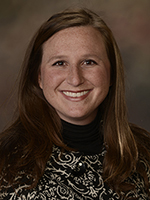 Haley Phillippe
Associate Clinical Professor
Unit: Pharmacy Practice
UAB School of Medicine
Division of Family Medicine
301 Governors Drive SW
Huntsville, AL 35801
Email: phillh1@auburn.edu
Phone: 256-551-4604
Fax: 256-551-4473
---
---
Bio
Education:
---
Dr. Haley M. Phillippe, Pharm.D., BCPS, BCGP, FASCP is an Associate Clinical Professor of Pharmacy Practice with Auburn University Harrison School of Pharmacy (HSOP), and Clinical Associate Professor of Family Medicine with the University of Alabama School of Medicine, Huntsville Campus. Her practice site is a large family medicine center, where she provides disease state management and pharmacotherapy services to patients, and actively educates medical residents, medical students, pharmacy residents, and pharmacy students.
Dr. Phillippe also has more than 10 years of practice experience in skilled nursing facilities. Her professional interests include geriatrics, anticoagulation, diabetes, transitions of care, and drugs of abuse.
A native of Scottsboro, Alabama, Dr. Phillippe earned a Doctor of Pharmacy degree from HSOP in 2006. Following graduation, she completed an ASHP-accredited Pharmacy Practice residency with emphasis in ambulatory care at Huntsville Hospital in Huntsville, Alabama. Dr. Phillippe joined the HSOP faculty in 2007. She became a Board Certified Pharmacotherapy Specialist in 2007 and a Board Certified Geriatric Pharmacist in 2017.
Dr. Phillippe has been active in national pharmacy organizations including American Society of Consultant Pharmacists (ASCP), American Society of Health-System Pharmacists (ASHP), and American College of Clinical Pharmacy (ACCP). She has served on and chaired numerous committees within these organizations. In 2018, she received the distinction of Fellow of the American Society of Consultant Pharmacists.
Dr. Phillippe received the HSOP Excellence in Outreach Award in 2018, the HSOP Faculty Research Excellence Award in 2018 and 2019, and the HSOP Preceptor of Excellence Award in 2013-14. She received the ACCP Member Volunteer Recognition Award in 2011, 2013, and 2014.
Dr. Phillippe has been an invited speaker and presented her research at national and state pharmacy meetings. She has presented numerous research posters and has authored numerous original research and review articles.
---