Harrison College of Pharmacy
Faculty and Staff Directory
---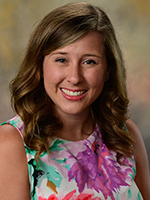 Jeanna Sewell
Assistant Clinical Professor
Director of Interprofessional Education
Units: Pharmacy Practice, Clinical Affairs and Outreach
Auburn University
Harrison College of Pharmacy
1330q Walker Building
Auburn, AL 36849
Email: mjsewell@auburn.edu
Phone: 334-844-8367
Fax: 334-844-4410
---
---
Bio
---
---
Education:
Areas of Interest:
Diabetes
Dyslipidemia
Patient Communication Strategies
Jeanna Sewell, Pharm.D., BCACP is an Assistant Clinical Professor in the Department of Pharmacy Practice with the Auburn University Harrison College of Pharmacy. She joined the HCOP faculty on August 1, 2016. She graduated with her Pharm.D. from the Harrison School of Pharmacy in 2014 and went on to complete two residency programs. She completed a community pharmacy PGY-1 residency at the University of Mississippi School of Pharmacy in Jackson, Mississippi. She stayed around for another year to complete an ambulatory care PGY-2 residency, also with the University of Mississippi School of Pharmacy.
Sewell serves as the Director of Interprofessional Education where she works with other health professions on campus to offer students experiences that teach them how to work as a member of an interprofessional team to provide the best care to patients.
A native of Huntsville, Alabama, Sewell is a member of the American College of Clinical Pharmacy and American Association of Colleges of Pharmacy where she serves of various committees. She now lives in Auburn with her husband, Eric, and daughter, Shelby.
---
Practice Site
Sewell maintains a practice site at Mercy Medical Clinic in Auburn, Alabama. Mercy Medical Clinic is an indigent clinic that works to provide primary care serves for uninsured and Medicaid patients in Auburn and the surrounding area. At this site she provides disease state management and transitions of care services. Her areas of interest include transitions of care, diabetes management, and interprofessional education.
---