Harrison College of Pharmacy
Faculty and Staff Directory
---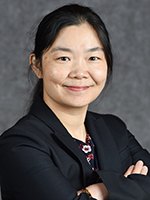 Jingjing Qian
Associate Professor
Director of Diversity
Units: Health Outcomes Research and Policy, Faculty Affairs
Auburn University
Harrison College of Pharmacy
4306d Walker Building
Auburn, AL 36849
Email: jzq0004@auburn.edu
Phone: 334-844-5818
Fax: 334-844-8307
---
Bio
Education:
B.S., Pharmaceutical Administration - China Pharmaceutical University, 2001
M.S., Social & Administrative Sciences in Pharmacy - Cincinnati, 2006
M.S., Epidemiology - Maryland, 2012
Ph.D., Pharmacoepidemiology - Maryland, 2012
---
---
Jingjing Qian, Ph.D, is an Associate Professor in the Harrison College of Pharmacy's Department of Health Outcomes Research and Policy. Additionally, Dr. Qian serves as the Director of Diversity under the Associate Dean for Faculty Affairs. As part of this position, she seeks to expand the College's collaborations with universities, corporations, scholars, students, and others in foreign countries and lead the School's efforts to become a more diverse and inclusive organization.
Research Interests:
My research explores problems in health outcome and pharmacoepidemiology research, particularly with regards to comparative effectiveness and safety of drug products. The goal of my research is to provide effective strategies and interventions to improve population health and eliminate health disparities.
My recent research involves in promoting generic drug post-marketing surveillance and education with collaboration from off campus partners supported by multiple U.S. FDA grants. Additional research interests include mental health, cancer, and disability research, treatment optimization and outcomes for patients with chronic conditions, medication adherence, and quality of care among vulnerable populations.
---
Currently Funded Research:
1/1/21 – 12/31/21: Breast Cancer Research Foundation of Alabama
Breast Cancer Research Foundation of Alabama. Total cost $30,334
Role: PI
7/1/18 – 6/30/21: Oregon Health & Science University
Data Analysis and Summary Documents for the Drug Effectiveness Review Project (DERP). Total cost $500,000
Role: Co-PI
---
Completed Funded Research:
1/1/20 – 12/31/20: Mike Slive Foundation
Impact of Cognitive Function on Treatment Selection and Outcomes of among Older Patients with Prostate Cancer. Total cost $50,000
Role: PI
9/15/15 – 2/28/19: U.S. Food and Drug Administration (Grant# U01FD005486)
Educating Groups Influencing Generic Drug Use. Total cost $749,837
Role: PI
9/30/15 – 9/29/18: U.S. Food and Drug Administration (Grant# FDA BAA-13-0019)
Comparative Surveillance of Generic Drugs by Machine Learning. Total cost $2,500,000
Role: Co-Investigator; PI: Peissig
9/05/16 – 8/31/18: U.S. Food and Drug Administration (Grant# U01FD005875)
Generic Drug Substitution in Special Populations. Total cost $399,990
Role: PI
---
Selected Publications:
Tanni K, Truong B, AlMahasis S, Qian J. Safety of Marketed Cancer Supportive Care Biosimilars in the U.S.: A Disproportionality Analysis Using the Food and Drug Administration Adverse Event Reporting System (FAERS) Database. BioDrugs. In press
Qian J. Uptake and Cost of Biosimilar Filgrastim among the Medicare and Medicaid Populations in 2015-2018. J Manag Care Spec Pharm. In press
Fahim SM, Huo N, Li C, Qian J. Screening Mammography Utilization among Female Medicare Beneficiaries and Breast Cancer Survivors in 2002-2016. J Womens Health. In press
Zeng Z, Mishuk AU, Qian J. Safety of Dietary Supplements Use among Patients with Cancer: A Systematic Review. Crit Rev Oncol Hematol. 2020 Aug;152:103013
Li C, Chen L, Huo N, Mishuk AU, Hansen RA, Harris I, Kiptanui Z, Wang Z, Qian J. Generic Escitalopram Initiation and Substitution among Medicare Beneficiaries: A New User Cohort Study. PLOS ONE. 2020 Apr 30;15(4):e0232226
Huo N, Chen L, Mishuk AU, Li C, Hansen RA, Harris I, Kiptanui Z, Wang Z, Dutcher S, Qian J. Levothyroxine Initiation and Substitution Among Medicare and Medicaid Populations: A New User Cohort Study. Endocrine. 2020 May;68(2):336-348
Hohmann N, Garza KB, Surry D, Hansen RA, Harris I, Kiptanui Z, Oguntimein O, Mitchell MF, Qian J. Health Provider Opinions about a Generic Drug Educational Newsletter: A Pilot Cross-sectional Survey. Res Social Adm Pharm. 2020 Sep;16(9):1228-1236
Mishuk AU, Fasina I, Qian J. Impact of U.S. Federal and State Generic Drug Policies on Drug Use, Spending, and Patient Outcomes - A Systematic Review. Res Social Adm Pharm. 2020 Jun;16(6):736-745
Qian J, Mishuk AU, Hansen RA. Does Public Perception Bias Lead to More Frequent Reporting of Adverse Events: Branded vs Generic Drugs. Expert Opin Drug Saf. 2018 Aug;17(8):753-756
Hohmann N, Hansen RA, Garza KB, Harris I, Kiptanui Z, Qian J. Association between Higher Generic Drug Use and Medicare Part D Prescription Plan Star Ratings: an Observational Analysis. Value Health. 2018 Oct;21(10):1186-1191
Li C, Hansen RA, Chou C, Calderón AI, Qian J. Trends in botanical dietary supplement use among US adults by cancer status: The National Health and Nutrition Examination Survey, 1999 to 2014. Cancer. 2018 Mar 15;124(6):1207-1215.
Qian J, Hansen RA, Surry D, Howard J, Kiptanui Z, Harris I. Disclosure of Industry Payments to Prescribers: Industry Payments Might Be a Factor Impacting Generic Drug Prescribing. Pharmacoepidemiol Drug Saf. 2017 Jul;26(7):819-826.
Qian J, Simoni-Wastila L, Langenberg P, Rattinger GB, Zuckerman IH, Lehmann S, Terrin M. Effects of Depression Diagnosis and Antidepressant Treatment on Mortality in Medicare Beneficiaries with COPD. J Am Geriatr Soc. 2013 May;61(5):754-761
---
Teaching:
PYPC 7530 Pharmaceutical Economics, Outcomes, and Policy (Fall)
PYPC 7540 Pharmacoepidemiology (Spring)
PYPC 7820 Research Methods for the Health Sciences (Fall)
PYPC 7950/8950 Pharmacy Care Systems Graduate Seminar (Fall/Spring)
PYPD-9360 Longitudinal 5 (Fall)
PYPD-9370 Longitudinal 6 (Spring)
---
Recent and Current Graduate Students:
Bang Truong (Ph.D., 2023)
Kaniz Afroz Tanni (Ph.D., 2023)
Chao Li (Ph.D., 2021)
Ahmed Ullah Mishuk (Ph.D., 2021)
Nan Huo (Ph.D., 2019)
Saranrat Wittayanukorn, MS (Ph.D., 2015)
---