Harrison College of Pharmacy
Faculty and Staff Directory
---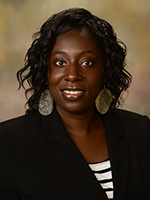 Kaleia Williams
Research Associate II
Unit: Research
Auburn University
Harrison College of Pharmacy
2320c Walker Building
Auburn, AL 36849
Email: ksw0016@auburn.edu
Phone: 334-844-7483
---
Bio
Education:
B.B.A., Business Administration - East Tennessee State
M.B.A., Business Administration and Management - Troy
---
Kaleia Williams is a Research Associate in the Harrison College of Pharmacy's Division of Research. She moved into her current role in December 2020 after previously serving as a financial assistant in the school's accounting office and a student services coordinator in the Department of Drug Discovery and Development. Williams joined HCOP in February 2014.
As the Research Associate, she assists researchers in planning, maintaining or completing research programs and/or projects involved in the discovery of new knowledge, techniques, and concepts which require advanced level scientific/research knowledge, skills and abilities following relevant policies, procedures, regulations and laws.
In her role, she may also develop or assist in the development of complex project proposals, plans, and protocols; conduct non-routine experiments, investigations and/or studies related to programs and projects in pursuit of new knowledge, techniques and concepts; and coordinate or assist logistics of research to include equipment, materials, and labor needs.
Additionally, she may collect data/samples related to others' research and in complex cases; record, compile, process and analyze data/samples; document results and observations in writing as well as presenting results to others; prepare research results for publication or presentation at conferences to include performing literature reviews and writing results and discussions; instruct students and/or supervise others' research in area of expertise; and maintain project budgets and/or coordinate funding.
Williams was born and raised in Tennessee and completed her Bachelor's Degree in Business Administration from East Tennessee State University. She went on to earn her MBA at Troy University. She is an Operation Iraqi Freedom Veteran.
---