Harrison School of Pharmacy
Faculty and Staff Directory
---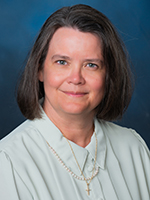 Karen Marlowe
Assistant Dean
Associate Department Head
Davis Professor
Unit: Pharmacy Practice
Auburn University
Harrison School of Pharmacy
650 Clinic Drive
Mobile, AL 36688
Email: marlokf@auburn.edu
Phone: 251-445-9302
Fax: 251-445-9341
---
---
Bio
Education:
B.S., Pharmacy - Auburn, 1993
Pharm.D. - Auburn, 1995
---
Karen F. Marlowe is the Assistant Dean over the Mobile campus and Associate Department Head in the Department of Pharmacy Practice. She received her B.S. in Pharmacy and Doctor of Pharmacy from the Auburn University Harrison School of Pharmacy.
She completed her pharmacy practice residency at Egleston Children's Hospital. After completing her residency Marlowe initiated a practice in the cardiac intensive care and cardiopulmonary transplant units at Egleston, Emory's Children Hospital in Atlanta, Georgia. Marlowe then accepted a teaching position with Auburn University in 2000.
Dr. Marlowe has been engaged in the design of the HSOP Practice Ready Curriculum. She teaches in the HSOP curriculum in all three years as well as offering two electives focused on end of life and pain management.
---
Practice Site
Dr. Marlowe's practice is based in Mobile, Alabama and is affiliated with the University of South Alabama Medical School, Department of Internal Medicine. She is board certified in Pharmacotherapy by the Board of Pharmaceutical Specialties. She is the only pharmacist in the state of Alabama credentialed in pain management by the American Academy of Pain Management. Marlowe is also a Certified Pain Educator and provides care for inpatient internal medicine patients, and maintains a consult service and patient advocacy program for patients with chronic pain or terminal illness. She is also serving on a state task force looking at the quality of hospice/palliative care in Alabama.
---
Teaching Interests
Pain Management
HIV/Opportunistic Infections
Internal Medicine Advanced Practice Experience
Clinical Pharmacokinetics
---
Research Interests
Pain management including the influence of health care provider attitudes, Ethics and Professionalism related to pain management, Patient attitudes and success of pain management strategies, Patient acceptance of non-medicinal strategies for pain management in combination with their medication, Current state of medical education related to pain management, Pharmacokinetics. Dr. Marlowe has received funding from Alabama Department of Mental Health and Alabama Department of Public Health for Opioid Education Efforts.
Please refer to her CV for a full list of presentations and publications.
---