Harrison School of Pharmacy
Faculty and Staff Directory
---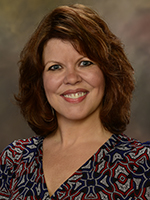 Kimberly Braxton Lloyd
Associate Dean for Clinical Affairs and Outreach
Gilliland Professor
Units: Pharmacy Practice, Clinical Affairs and Outreach
Auburn University
Harrison School of Pharmacy
2155 Walker Building
Auburn, AL 36849
Email: lloydkb@auburn.edu
Phone: 334-844-4099
Fax: 334-844-4019
---
Bio
Education:
B.A., Chemistry - Huntingdon College
B.S., Pharmacy - Auburn
Pharm.D. - Auburn
---
---
Kimberly Braxton Lloyd, Pharm.D. is the Associate Dean of Clinical Affairs and Outreach and provides administrative oversight for CAO's three branches:  Clinical Health Services (CHS), Experiential Programs, and Alumni and Professional Affairs. She also serves as the Pharmacy Officer for Auburn University and works closely with Auburn University Human Resources in this role. She is a Gilliland Professor of Pharmacy Practice.
Dr. Braxton Lloyd is a native of Cottondale, Florida. She studied at Huntingdon College in Montgomery, Alabama where she received a B.A. in Chemistry and then moved to Auburn and fell in love with The Plains. She received a B.S. in pharmacy in 1994 and a Pharm.D. in 1995 from the Harrison School of Pharmacy; completed a Pharmacy Practice Residency at the Medical Center in Columbus, Georgia in 1996; year one of a two-year research fellowship in pharmacoeconomics and outcomes research at the University of South Carolina in Columbia, South Carolina in 1997; and finished the last year of her fellowship training with GlaxoWellcome in Research Triangle Park, North Carolina in 1998. She then returned to Auburn and joined the faculty of HSOP.
As Associate Dean of Clinical Affairs and Outreach, Dr. Braxton Lloyd is the administrator in charge of all clinical, pharmacy, and drug information services that are provided directly to patients, providers, or other stakeholders through AU's Harrison School of Pharmacy's Clinical Health Services division.  She and her CHS team continuously strive to develop, implement, and validate innovative pharmacy practice and interprofessional practice models that can be easily adapted within ambulatory care and community settings. CHS and Experiential Programs work closely to integrate CHS's direct patient care activities into the introductory and advanced pharmacy practice experiences (IPPE and APPE), interprofessional education (IPE), and co-curricular activities that are available to HSOP students throughout their professional training.
Also, Dr. Braxton Lloyd and her alumni and professional affairs team strive to maintain strong relationships with HSOP alumni through ongoing training, development, and support following graduation.
Dr. Braxton Lloyd is a nationally-recognized expert in pharmacy innovation. She has developed, implemented, assessed, validated, and expanded innovative practice models for large, self-insured employers in the academic and state government settings. She conducts applied pharmacoeconomics and outcomes research.
Please see the CV linked above for more information on Dr. Braxton Lloyd's research, scholarship, and awards.
---