Harrison School of Pharmacy
Faculty and Staff Directory
---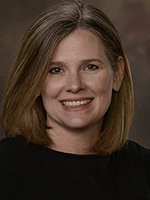 Lori Hornsby
Associate Clinical Professor
Unit: Pharmacy Practice
Piedmont Columbus Community Health Center
1800 10th Avenue
Columbus, GA 31901
Email: hornslb@auburn.edu
Phone: 706-321-3773
Fax: 706-321-3751
---
Bio
Education:
B.S., Pharmacy - Auburn, 1998
Pharm.D. - Auburn, 1999
---
Lori B. Hornsby, Pharm.D. is an Associate Clinical Professor with the Harrison School of Pharmacy. Dr. Hornsby grew up in Talladega, Alabama and is an Auburn graduate. She completed her B.S. in Pharmacy in 1998 and earned her Pharm.D. degree in 1999 before completing a post-graduate Primary Care Specialty Residency with DCH in Tuscaloosa, Alabama and Auburn University.
After her residency she served as an affiliate faculty for Auburn, Georgia, and Mercer schools of pharmacy while working as an ambulatory clinical pharmacist with Columbus Regional Medical Center Family Medicine Residency Program in Columbus, Georgia. She became a Board Certified Pharmacotherapy Specialist in 2003.
Dr. Hornsby joined the HSOP in 2005 as full-time faculty practicing in Montgomery with the Montgomery Family Medicine Residency Program until August of 2008 at which time she rejoined Columbus Regional, now Piedmont Columbus.
She served as past chair of the HSOP curriculum committee and a member of the Practice Ready Curriculum Team involved in the development of the current curriculum. She has been honored with the Regional Preceptor of Excellence Award for the Columbus Region various times. In 2008 she was named Outstanding Teacher for the 2007-08 academic year and in 2016 she was awarded the Ways of Working (WOW) award for her work with the curriculum committee. She is also a member of the American College of Clinical Pharmacy (ACCP) and American Association of Colleges of Pharmacy (AACP).
---
Practice Site
Dr. Hornsby's practice is located at the Piedmont Columbus Community Health Center where she works collaboratively with other healthcare providers to manage patients with various chronic disease states such as diabetes, hypertension, hyperlipidemia, hepatitis C, and individuals receiving anticoagulation therapy.
---