Harrison College of Pharmacy
Faculty and Staff Directory
---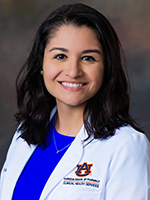 Mafe Zmajevac
Ambulatory Care Pharmacist, AUPCC
Unit: Clinical Affairs and Outreach
Auburn University
Harrison College of Pharmacy
2155 Walker Building
Auburn, AL 36849
Email: mzr0058@auburn.edu
Phone: 334-844-4099
Fax: 334-844-8983
---
Bio
Education:
---
Mafe Zmajevac, PharmD, is an ambulatory care pharmacist at the Auburn University Pharmaceutical Care Center. In her role, Dr. Zmajevac provides transitions of care services to support patients transitioning from inpatient care at East Alabama Medical Center to outpatient management. Dr. Zmajevac enjoys working closely with patients and other health care providers to optimize patient care, improve health-related outcomes, and help reduce hospital readmission rates.
A 2021 HCOP PharmD graduate, Dr. Zmajevac completed the Auburn University Clinical Health Services PGY-1 residency with an emphasis on ambulatory care from 2021-2022. Equipped with her residency training and over 10 years of community pharmacy experience, Dr. Zmajevac began her current role in July 2022.
A native of Caracas, Venezuela, Dr. Zmajevac moved to the U.S. when she was nine years old. She enjoys spending time with her large family, traveling, and attending Atlanta United games with her husband, Aldin.
---