Harrison School of Pharmacy
Faculty and Staff Directory
---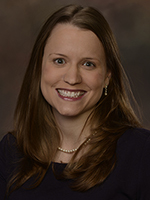 Marilyn Bulloch
Associate Clinical Professor
Director of Strategic Operations
Units: Pharmacy Practice, Faculty Affairs and strategic Initiatives
Northeast Medical Building
Box 3611
Tuscaloosa, AL 35487
Email: mjn0004@auburn.edu
Phone: 205-348-4361
---
---
Bio
Education:
---
Marilyn Novell Bulloch, Pharm.D. BCPS, FCCM is an Associate Clinical Professor in the Department of Pharmacy Practice at the Auburn University Harrison School of Pharmacy. Dr. Bulloch holds an Adjunct Associate Professor appointment with the University of Alabama-Birmingham School of Medicine Department of Medicine and the University of Alabama College of Community Health Sciences Department of Family, Internal, and Rural Medicine.
Additionally, Dr. Bulloch serves as the Director of Strategic Operations under the Associate Dean of Faculty Affairs and Strategic Initiatives at HSOP. As part of this position, she provides leadership, support, and direction in the areas of accreditation - including the ACPE self-study and site visit, strategic planning, and continuous quality improvement.
Dr. Bulloch grew up in Collinsville, Virginia and received her Doctor of Pharmacy degree from the Ernest Mario School of Pharmacy at Rutgers, the State University of New Jersey in 2007. She completed a post-graduate pharmacy practice residency at the University of Alabama-Birmingham Hospital in 2008. In 2009, Dr. Bulloch completed post-graduate specialty residency in critical care pharmacy at Charleston Area Medical Center in Charleston, West Virginia. Additionally, Dr. Bulloch completed a Faculty Scholars Program in geriatrics through the University of Alabama-Birmingham Geriatric Education Center in 2011.
Dr. Bulloch began in her role as faculty at Auburn in August 2009 and her current practice site is at DCH Regional Medical Center in Tuscaloosa, Alabama. She participates in an interprofessional education inpatient rounding service that also includes academic physicians from the University of Alabama, medical residents and fellows, and third and fourth year medical students. Her practice includes adult critically ill and acute care patients, with a large contingent of geriatric patients. Dr. Bulloch provides comprehensive pharmacotherapy management for the patients on the inpatient service, with specific focus on infectious disease and other acute and critical illness needs.
Dr. Bulloch has and continues to serves on multiple committees and in leadership positions for many local, state, and national pharmacy and interdisciplinary medical organizations. She was inducted as a Fellow of the American College of Critical Care Medicine in 2017.
Her research interests include geriatric pharmacotherapy, interdisciplinary education, alternative professional education instructional methods, infectious disease, care transitions, and acute and critical care pharmacotherapy.
---