Harrison School of Pharmacy
Faculty and Staff Directory
---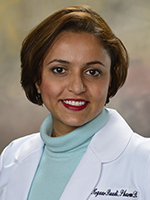 Negaar Baadi
Pharmacist in Charge, Student Pharmacy
Unit: Clinical Affairs and Outreach
Auburn University
Harrison School of Pharmacy
2150 Walker Building
Auburn, AL 36849
Email: nmb0023@auburn.edu
Phone: 334-844-4099
Fax: 334-844-8983
---
Bio
Education:
B.S., Pharmaceutical Sciences - Toledo, 2011
B.S., Molecular Cellular Developmental Biology - Michigan, 2012
Pharm.D. - Toledo, 2013
---
Negaar Baadi, Pharm.D., is the Pharmacist in Charge of the Auburn University Student Pharmacy within the Clinical Health Services Division of Clinical Affairs and Outreach. She joined the Harrison School of Pharmacy in January 2017.
In her role as the Pharmacist in Charge, she ensures compliance of all federal and state pharmacy laws and provides oversight of all business operations of the pharmacy. She also serves as a Pharmacist Clinical Practitioner to ensure that all new patients receive a baseline medication therapy management review, as well as education, instruction, and training on the new medications.
Baadi is also an affiliate faculty member with HSOP. In her role as a preceptor, she mentors pharmacy students in community pharmacy experiential learning for their professional development.
Prior to joining the HSOP Family, she spent three years as a staff pharmacist with Walgreens.
Baadi is active within the American Society of Health System Pharmacists (ASHP). She is married to Dr. Nima Shamsaei, an associate professor in the Department of Mechanical Engineering at Auburn. They live in Auburn with their son, Aiden.
---