Harrison College of Pharmacy
Faculty and Staff Directory
---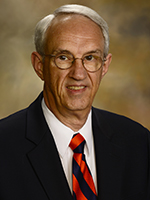 Paul Jungnickel
Senior Associate Dean
Professor
Unit: Pharmacy Practice
Auburn University
Harrison College of Pharmacy
2320e Walker Building
Auburn, AL 36849
Email: jungnpw@auburn.edu
Phone: 334-844-8348
Fax: 334-844-8353
---
Bio
Education:
B.S., Pharmacy - Oregon State, 1972
M.S., Hospital Pharmacy - Kansas, 1975
Ph.D., Education - Nebraska, 1993
---
Paul W. Jungnickel, Ph.D., R.Ph., Professor and Senior Associate Dean. He served as Associate Dean for Academic Programs from his arrival in 1997 until 2022. Jungnickel was born in Forest Grove, Oregon. He received a Bachelor of Science Degree in Pharmacy from Oregon State University in 1972. In 1975, he completed a Residency and Master of Science Degree in Hospital Pharmacy from the University of Kansas. In 1993, Dr. Jungnickel completed a Doctor of Philosophy Degree in education from the University of Nebraska-Lincoln with emphasis in post-secondary administration.
Dr. Jungnickel practiced hospital pharmacy in Portland, Oregon from 1975 to 1983, and then joined the faculty of the University of Nebraska Medical Center College of Pharmacy. There he practiced and taught in the areas of adult internal medicine and gastroenterology, and served as Coordinator of Experiential Education.
He joined the faculty of the Harrison College of Pharmacy as Associate Dean and Associate Professor in 1997, and in 2002 was promoted to the rank of Professor. He has published and presented extensively on the pharmacotherapy of dyslipidemia and gastrointestinal diseases, and also maintains a scholarly interest in the areas of educational reform in pharmacy and health care policy.
Over his academic career, Dr. Jungnickel has been a very active member of the American Association of Colleges of Pharmacy (AACP), including service as Chair of the PEP-SIG (1992-1993) and the Student Services SIG (2004-2005). He has also served the Section of Teachers of Pharmacy Practice as Secretary (2000-2002), Chair-Elect (2006-2007), Chair (2007-2008), and Immediate Past-Chair (2009-2010). Dr. Jungnickel has also been actively involved in leadership roles within the Rho Chi Honor Society, having served as Rho Chi National Secretary (2005-2012), National President-Elect (2012-2014), National President (2014-2016) and Immediate Past President (2016-20188). He also serves as faculty advisor for the Harrison School of Pharmacy's Zeta Chapter of Rho Chi.
Dr. Jungnickel believes that one greatest joys of a career in academic pharmacy is playing an important role in developing the next generation of pharmacists.
In 2010, he was recognized for his efforts in this area by being selected to receive the Harrison College of Pharmacy's Hargreaves Faculty Mentor Award. In 2018 he received the Faculty Member of the Year Award from the Alabama Pharmacy Association. He was honored twice in 2019 by AACP with the Administrative Services Section award for Sustained Contribution to Administrative Practice in Pharmacy Education and with the James Robertson, Jr. Leadership Excellence in Student Services Award.
---
Selected Publications
Jungnickel PW, Kelley KW, Hammer DP, Haines ST, Marlowe KF.  Addressing competencies for the future in the professional curriculum.  Am J Pharm Educ. 2009;73(8): Article 156.
Jungnickel PW, DeSimone EM, Kissack JC, Lawson LA, Murawski MM, Patterson BM, Rospond RM, Scott DM, Athay J.  Report of the AACP Special Committee on Substance Abuse and Pharmacy Education.  Am J Pharm Educ. 2010;74(10): Article S11.
Oliver W, McGuffey G, Westrick SC, Jungnickel PW, Correia CJ.  Alcohol use behaviors among pharmacy students.  Am J Pharm Educ. 2014;78(2): Article 30.
Zeek ML, Savoie MJ, Song M, Kennemur LA, Qian J, Jungnickel PW, Westrick SC.  Sleep duration and academic performance among student pharmacists.  Am J Pharm Educ. 2015:79(5): Article 63.
Dornblaser EK, Ratka A, Gleason SE, Ombengi DN, Tofade T, Wigle PR, Zapantis A, Ryan M, Connor S, Jonkman LJ, Ochs L, Jungnickel PW, Abrons JP, Alsharif NZ.  Current practices in global/international advanced pharmacy practice experiences: Preceptor and student considerations.  Am J Pharm Educ. 2016;80(3): Article 39.
Eiland LS, Gaillard PR, Fan S, Jungnickel PW.  Differences in predictors of academic success using multi- and individual year student Admissions data.  Pharmacy Education. 2018;18(1):255-258.
Evans RL, Duncan W, Jungnickel PW.  Incorporating ACPE Standards in a Systems Approach to School Operations.  Am J Pharm Educ.  2019;83(3): Article 7073.
---