Harrison College of Pharmacy
Faculty and Staff Directory
---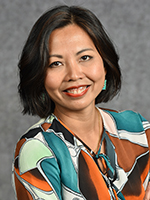 Salisa Westrick
Department Head
Sterling Professor
Unit: Health Outcomes Research and Policy
Auburn University
Harrison College of Pharmacy
4306g Walker Building
Auburn, AL 36849
Email: westrsc@auburn.edu
Phone: 334-844-8314
Fax: 334-844-8307
---
Bio
Education:
B.S., Pharmacy - Chulalongkorn University (Thailand), 1997
M.S., Training and Development - Illinois State, 2000
Ph.D., Social and Administrative Sciences in Pharmacy - Wisconsin, 2004
---
---
Research Interests
The goal of my research program is to improve the quality of health care and patient health outcomes through promoting the uptake of evidence-base innovations into practice. Using organizational theories and implementation science principles, I have studied the adoption, implementation and evaluation of various types of healthcare innovations. While much of my research experience is focusing on the adoption of immunization services in community pharmacies, concepts related to adoption and implementation of innovations are transferrable and applicable to other organizations and other innovations including biometric screening, naloxone dispensing, Immunization Information Systems, and medication therapy management services. I have worked with researchers in the Southeastern United States to develop and maintain Rural Research Alliance of Community Pharmacies or RURAL-CP. RURAL-CP is the first multi-state practice-based research network developed exclusively for rural community pharmacies. See https://ruralcp.web.unc.edu for more detail about the network.
In the area of pharmacy-based immunization services, my work has spanned from adoption to sustainability to abandonment of immunization services. Currently, I partner with the National Community Pharmacists Association (NCPA) through the contract from the Centers for Disease Control and Prevention (CDC) to enhance the implementation of immunization standards among community pharmacies. I also continue working with an industrial partner to advance pharmacists' role in immunization services.
Another area of my research is to increase access to care among Medicare beneficiaries with limited income. Since 2013, I have partnered with Alabama's State Health Insurance Assistance Program to implement a Medicare outreach program by offering student-facilitated enrollment events for Medicare beneficiaries. Over 500 students have participated in this program over the years. Further, through funding from Alabama Department of Senior Services, I am leading a program to increase the number of Medicare beneficiaries who enroll in low-income subsidy programs by creating a referral network between community pharmacies and state-wide Aging and Disability Resource Centers.
---
Current Funded Research
Title: Enhancing Implementation of Immunization Practice Standards Among Independently Owned Community Pharmacies
Source: Centers for Disease Control and Prevention, NH23IP922573-01-00
Investigator: Westrick SC (PI)
Date: October 2018 – September 2023
Title: Promoting Access to Community Resources for Medicare Population
Source: Alabama Department of Senior Services
Investigator: Westrick SC (PI)
Date: October 2015 – Present
alpharmacycares.org
Senior Medicare Patrol Program
Source: Alabama Department of Senior Services
Investigator: Westrick SC (PI)
Date: June 2022 – May 2023
---
Selected Publications
Hohmann L, Fox B, Garza K, Wang C, Correia C, Curran G, Westrick S. Impact of a Multi-Component Educational Intervention on Community Pharmacy-Based Naloxone Services Implementation: A Pragmatic Randomized Controlled Trial. Annals of Pharmacotherapy. In Press.
Gamble A, Hastings TJ, Westrick SC, Smith M, Hannings, AN, Robinson JM, Rosenthal M, Kiser SN, Curran G, Carpenter DM. COVID-19 booster vaccination in rural community pharmacies, Vaccine. 2023; 41(5): 999-1002. https://doi.org/10.1016/j.vaccine.2022.12.050
Hastings T, Zhao Y, Ha D, Fox BI, Qian J, Lakin J, Westrick SC. Determinants to Immunization Information System Implementation in Independent Community Pharmacies in Rural Alabama. Research in Social & Administrative Pharmacy. 2023; 19(1):86-94. https://doi.org/10.1016/j.sapharm.2022.09.004.
Gamble A, Mashburn T, Kennelty KA, Look KA, Westrick SC, Evon DM, Tudor G, Carpenter DM. Addressing the opioid epidemic through community pharmacy engagement: Study protocol for a randomized controlled trial. Contemporary Clinical Trials. 2022 Oct;121:106920.
Aref H, Westrick S, Chou C, Worthington D, Garza K. How to Inform College students about Meningitis B vaccine? Comparative Effectiveness of an Online Theory-Based Text and Video Intervention. Journal of American College Health. 2022. https://doi.org/10.1080/07448481.2022.2064713.
Hohmann L, Phillippe H, Marlowe K, Jeminiwa R, Hohmann N, Westrick S, Fowler A, Fox B. A state-wide education program on opioid use disorder: influential community members' knowledge, beliefs, and opportunities for coalition development. BMC Public Health. 2022; 22:886. https://bmcpublichealth.biomedcentral.com/articles/10.1186/s12889-022-13248-z
Hastings TJ, Ha D, Fox BI, Qian J, Lakin J, Westrick SC. Increasing use of immunization information systems for routine vaccinations in independent community pharmacies: a randomized controlled trial. Journal of the American Pharmacists Association. 2022; 62(4):1270-79.e2. https://doi.org/10.1016/j.japh.2022.02.010
Westrick SC, Harris T, Hastings T, Zhao Y, Diggs K, Shah R. Evaluation of a poverty-focused educational program and simulation for pharmacists. Currents in Pharmacy Teaching and Learning. 2022; 14(3): 344-351. https://doi.org/10.1016/j.cptl.2022.01.020.
Carpenter DM, Hastings T, Westrick S, Mashburn P, Rosenthal M, Smith M, Kiser S, Gamble A, Brewer NT, Curran G. Rural community pharmacists' ability and interest in administering COVID-19 vaccines in the Southern United States. Journal of the American Pharmacists Association. 2022; 62(4):1779-1383. https://doi.org/10.1016/j.japh.2022.01.013.
See Westrick's full list of publications online.
---
Teaching
PYPD 9320 Longitudinal Learning Experience I
PYPD 9330 Longitudinal Learning Experience II
PYPD 9340 Longitudinal Learning Experience III
PYPD 9360 Longitudinal Learning Experience V
PYPD 9370 Longitudinal Learning Experience VI
PYPC 7820 Research Methods & Design in Health Sciences I
PYPC 7510: Health Services Delivery and Evaluation
PYPC 7570: Social, Behavioral and Administrative Aspects of Pharmacy Practice
---
Graduate Students Advised
Yi Zhao. PhD Program. 2018 - Present
Sura AlMahasis. MS Program. Graduated 2021
Tessa Hastings. PhD Program. Graduated 2019
Lindsey Hohmann. PhD Program. Graduated 2019
Benjamin Teeter. PhD Program. Graduated 2015
Saranrat Wittayanukorn. MS Program. Graduated 2012
Michelle Breland. PhD Program. Graduated 2011
---
PharmD Students Advised
Tinia Harris. Class of 2021. 2019-21
Kavon Diggs. Class of 2024. 2019 – Present
---
Undergraduate Students Advised
Kavon Diggs (pre-pharmacy). 2018-2019.
Stuart McFarland (engineering). Graduated 2017.
---