Harrison School of Pharmacy
Faculty and Staff Directory
---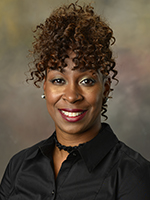 Shereka Murray
Administrative Support Associate I, CHS
Unit: Clinical Affairs and Outreach
Auburn University
Harrison School of Pharmacy
2155 Walker Building
Auburn, AL 36849
Email: srm0060@auburn.edu
Phone: 334-844-4099
Fax: 334-844-4019
---
Bio
Shereka Murray is an Administrative Support Associate for the Auburn University Pharmaceutical Care Center (AUPCC). She accepted her position with Clinical Health Services in August of 2018. In her position, she serves as the clinic's receptionist, greets patients as they enter the pharmacy and clinic suite, schedule/reschedule appointments, manage clinic calendars, provides general information on services provided, and performs other clerical duties to support the operations of the AUPCC.
Murray previously served as a temporary service employee at Auburn University for a year before becoming full-time in 2018. She is married to Joseph Murray, a paramedic with East Alabama Medical Center, and the couple has two children, son Elijah Hardaway who serves in the United States Navy, and daughter Devina Perry, a 2019 high school graduate. Murray is an active member at New Life Christian Center.
Murray is currently a certified Zumba instructor as well as a personal fitness trainer. She spends her off time helping others with healthy eating and their fitness journey.
---