Harrison College of Pharmacy
Faculty and Staff Directory
---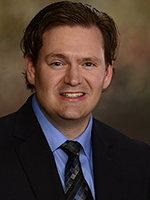 Spencer Durham
Associate Clinical Professor
Director of Alumni & Professional Affairs
Units: Pharmacy Practice, Clinical Affairs and Outreach
Auburn University
Harrison College of Pharmacy
301 Governors Drive SW, #385C1
Huntsville, AL 35801
Email: durhash@auburn.edu
Phone: 256-551-4538
---
Bio
Education:
---
Spencer H. Durham, Pharm.D., BCPS, BCIDP is an Associate Clinical Professor in the Department of Pharmacy Practice and also serves as the Director of Alumni & Professional Affairs with the Harrison College of Pharmacy. Originally from Arab, Alabama, he completed his pre-pharmacy coursework at Auburn University and graduated with his Doctor of Pharmacy degree from the Harrison College of Pharmacy in 2007. He went on to complete an ASHP-accredited post-graduate residency at Children's Health System in Birmingham, Alabama in 2008. After completion of his residency, he joined the staff at Sacred Heart Hospital in Pensacola, Florida as a clinical pharmacist specialist, a role he maintained for five years.
In 2013, Dr. Durham joined the faculty of the Harrison College of Pharmacy, where he teaches in various courses throughout the curriculum.
Additionally, Dr. Durham serves as the Director of Alumni and Professional Affairs under the Associate Dean for Clinical Affairs and Outreach. As part of this position, he works proactively with HCOP alumni and other health care professionals from throughout the state and region to foster the development of innovative practice models and to expand and enhance opportunities for continuous professional development.
Dr. Durham also oversees the Office of Alumni and Professional Affairs, which is responsible for the many continuing education programs offered each year by HCOP.
Dr. Durham has published more than 20 peer-reviewed articles in respected journals and several book chapters. He is an active speaker each year at national, state, and local conferences, where he educates healthcare professionals on topics related to infectious diseases and antimicrobial stewardship. Additionally, Dr. Durham is active in several state and national organizations including the Alabama Pharmacy Association (APA), the Alabama Society of Health-Systems Pharmacists (AlSHP), the American College of Clinical Pharmacy (ACCP), and the American Society of Consultant Pharmacists (ASCP).
---
Practice Site
Dr. Durham maintains a practice site at the Central Alabama Veterans Health Care System where he specializes in the area of infectious diseases. He serves as a clinician in the inpatient acute care units, the long-term care facility, and the HIV and general infectious diseases outpatient clinics. At his practice site, Dr. Durham serves as a preceptor for both pharmacy students and residents. He also holds a dual board certification as a Board Certified Pharmacotherapy Specialist (BCPS) and a Board Certified Infectious Diseases Pharmacist (BCIDP).
---