Harrison School of Pharmacy
Faculty and Staff Directory
---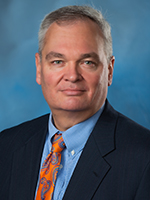 Tim Moore
Associate Dean for Research
W.W. Walker Professor
Units: Research Programs, Drug Discovery and Development
Auburn University
Harrison College of Pharmacy
2316 Walker Building
Auburn, AL 36849
Email: tmm0047@auburn.edu
Phone: 334-844-7451
Fax: 334-844-8331
---
Bio
Education:
B.S., Zoology - Auburn, 1991
Ph.D., Biomedical Sciences - South Alabama, 1996
M.D. - South Alabama, 2002
---
Tim Moore, an Auburn University alum and longtime medical professional and researcher, joined the Harrison College of Pharmacy in March, 2016. Moore initially joined the college as department head for Drug Discovery and Development. On Sept. 1, 2019, Moore assumed the role as Associate Dean for Research Programs. On June 1, 2022, Moore assumed the role of Interim Dean.
Moore joined the Harrison College of Pharmacy after spending the previous seven years with the National Institutes of Health.
Moore is a 1991 graduate of Auburn, earning a Bachelor of Science in zoology. He went on to receive a Doctorate in biomedical sciences from the University of South Alabama in 1996 and completed his Doctor of Medicine at South Alabama in 2002. He did post-doctoral work at South Alabama in both pharmacology and physiology. He later completed an internal medicine internship at the University of Maryland, Mercy Medical Center and conducted vascular research and served as a clinical resident in anesthesiology and critical care at Johns Hopkins Medical Institutions.
Moore came to Auburn after spending the previous seven years at the National Institutes of Health/National Heart, Lung, and Blood Institute (NIHLBI) as a Medical Officer and Chief of the Lung Biology and Disease Branch of the Division of Lung Diseases. He also held the positions of Director of the NHLBI Science Moving Towards Research Translation and Therapy Program (SMARTT) and was the Director of the Lung Cell/Vascular Biology Program.
At NHLBI, Moore worked with teams of researchers across the nation to advance basic, translational, and clinical research. He received numerous awards and recognition for research initiatives, most notably for innovation and exceptional leadership in developing and managing research programs in pulmonary vascular disease, and for fostering exceptional teamwork in translational science and providing leadership of the SMARTT Program.
Prior to arriving at the NIH, Moore served as an assistant professor at the University of South Alabama College of medicine from 2006-09. While there, he held positions in both the Department of Internal Medicine and the Department of Pharmacology.
Specializing in physiology and pharmacology, Moore has more than 25 journal publications and original papers, more than 20 book chapters and reviews, and more than 50 abstracts.
He has been active in the American Thoracic Society, American Heart Association and the American Federation for Medical Research.
Moore is married to the former LaDonna Latham, a 1991 graduate of the Harrison College of Pharmacy and a pharmacist at Baptist Medical Center East in Montgomery. The couple has three children: Abigail, Ashley, and Austin.
---