Harrison School of Pharmacy
Faculty and Staff Directory
---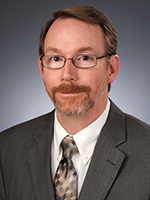 Adam Keeton
Assistant Research Professor
Department: Drug Discovery and Development
Auburn University
Harrison School of Pharmacy
3306e Walker Building
Auburn, AL 36849
Email: abk0039@auburn.edu
Phone: 334-844-8279
---
Bio
Education:
Ph.D., Pathology - Alabama-Birmingham
---
Dr. Adam B. Keeton received his Ph.D. in pathology from the University of Alabama at Birmingham, followed by postdoctoral training at Southern Research (SR). He subsequently was appointed as staff scientist at SR, and thereafter advanced through the positions of Associate Research Biologist and Research Biologist.
In 2011, Keeton was recruited to the USA Mitchell Cancer Institute, where he held an academic appointment of Assistant Professor of Pharmacology, and he served as manager of the Drug Discovery High-Throughput Biology Core Facility, collaborating with drug discovery scientists, locally, nationally and abroad.
He has extensively published in the peer-reviewed literature, and he is named inventor on numerous patents and patent applications. Keeton's career-long focus has been on the discovery of novel cancer therapeutics. At SR, he developed or adapted cell growth, signal transduction, fluorescence microscopy, and gene regulation methods for high-throughput screening automation. At the Mitchell Cancer Institute, Keeton designed, implemented, and managed a state-of-the-art laboratory for high-throughput and high-content drug discovery screening. He contributed pivotally to showing cGMP PDE as a target for the tumor cell growth inhibitory activity of a novel family of indene derivatives. These studies have further revealed that cGMP PDE inhibition leads to the elevation of intracellular cGMP levels, activation of protein kinase G, and the suppression of Wnt/β-catenin transcriptional activity to induce cell cycle arrest and apoptosis.
In 2014, Keeton co-founded ADT Pharmaceuticals along with co-founder colleagues Michael Boyd, Gary Piazza and Xi Chen.
---