Harrison School of Pharmacy
Faculty and Staff Directory
---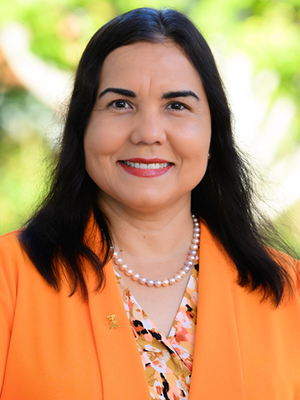 Angela Calderon
Associate Professor
Unit: Drug Discovery and Development
Auburn University
Harrison School of Pharmacy
3306c Walker Building
Auburn, AL 36849
Email: aic0001@auburn.edu
Phone: 334-844-8333
Fax: 334-844-8331
---
Bio
Education:
B.S., Pharmacy - University of Panama (Panama), 1990
M.S., Pharmacognosy - University of Illinois at Chicago, 1997
Ph.D., Pharmacognosy - University of Lausanne (Switzerland), 2002
---
Angela I. Calderón, Ph.D. is an Associate Professor in the Department of Drug Discovery and Development, Harrison School of Pharmacy, Auburn University. She received her B.S. in Pharmacy from the University of Panama, Panama City, Republic of Panama (1990), M.S. in Pharmacognosy from the University of Illinois at Chicago, Chicago, Illinois under the supervision of Dr. Djaja Djendoel Soejarto and Dr. Cindy K. Angerhofer (1997), and Ph.D. in Pharmacognosy from the University of Lausanne, Lausanne, Switzerland under the guidance of Prof. Kurt Hostettmann (2002). Then, she conducted her postdoctorate on biomedical applications of mass spectrometry at Prof. Richard B. van Breemen's laboratory at the University of Illinois at Chicago (2006-2008). She joined the faculty at Auburn University School of Pharmacy as an Assistant Professor in August, 2008.
Dr. Calderón specializes in natural drug products research, specifically applications of mass spectrometry to natural products drug discovery for tuberculosis and malaria and quality and safety assessment of botanical dietary supplements. She is the first researcher to develop a mass spectrometry based assays to discover antimalarial and antitubercular compounds. Over the last nine years, she has authored 32 publications, one U.S patent, and two book chapters. In the classroom, she teaches graduate courses in separation science and mass spectrometry.
During her academic training, she has awarded with scholarships from Fulbright-LASPAU, Commission Fédérale des Bourses pour étudiants étrangers-Suisse and National Secretariat of Science, Technology and Innovation (SENACYT) from Panamanian government, Republic of Panama to support her Master's and Ph.D. studies. Dr. Calderón has also received research funding from agencies that include the American Society of Pharmacognosy, United States Pharmacopeia, Auburn University Research Initiative in Cancer (AURIC), botanical dietary supplements industry, UNDP/World Bank/WHO Special Programme for Research and Training in Tropical Diseases (TDR) and International Foundation for Science (IFS). She is also a member of the United States Pharmacopeia Botanical Dietary Supplements and Herbal Medicines Expert Committee 2015-2020.
She is the Section Editor of Pharmacognosy of Combinatorial Chemistry & High Throughput Screening, member of the Advisory Board of Planta Medica and reviewer for manuscripts from 25 journals on natural products research and mass spectrometry. Also, she has been Guest editor for the Special issue on "Thioredoxin and Glutathione Systems" for the journal Molecules.
She has been grant proposal reviewer for National Institutes of Health (NIH), USA and German Federal Ministry of Education and Research (BMBF) and Project Management Jülich (PtJ) and Deutsche Forschungsgemeinschaft (German Research Foundation), Germany, and International Foundation for Science (IFS), Sweeden.
---
Dr. Angela Calderón's primary research interests are in two areas:
Biomedical applications of mass spectrometry in the discovery and development of bioactive natural products from plants for tuberculosis and tropical diseases particularly malaria.


Screening for Plasmodium falciparum thioredoxin reductase and Mycobacterium tuberculosis shikimate kinase inhibitory activities of East Indian sandal oil (EISO) and Panamanian plants.

Quality and safety assessment of botanical dietary supplements


Evaluation of the safety of concomitant use of açaí and maca botanical dietary supplements and anticancer drugs.
LC-MS based metabolism studies of East Indian Sandal oil (EISO).
Development of LC-MS based chemical fingerprinting and profiling methods for East Indian Sandal oil (EISO)
LC-MS based metabolomic studies of promising medicinal and edible plant species and biological fluids.
---
Video and Audio
IMAGiNA Radio Podcast, February 26, 2019 (Spanish Language) | Link
---
---
Key Publications
Complete List of Published Works
Pisarčíková J, Oceľová V, Faix Š, Plachá I, Calderón AI. Identification and quantification of thymol metabolites in plasma, liver, and duodenal wall of broiler chickens using UHPLC-ESI-QTOF-MS. Biomedical Chromatography. 2016. 31(5). doi: 10.1002/bmc.3881.
Almalki, AJ, Zaher, A, Simithy, J, Keller, WJ, Tripp, M, Calderón, AI. LC-MS based Quality Assessment of a Traditional Chinese Medicine YANG XIN Formulation. Planta Medica, 2016, 82(13):1208-1216.
Simithy J, Gill G, Wang Y, Goodwin DC, Calderón AI. Development of an ESI-LC-MS-based assay for kinetic evaluation of Mycobacterium tuberculosis shikimate kinase activity and inhibition. Analytical Chemistry. 2015; 87(4):2129-2136.
Zaher, AM, Makboul, MA, Moharram, AM, Calderón, AI. LC-MS metabolite fingerprinting and MtSK-based screening of an endophyte Bartalinia pondoensis Marinc of Citrus aurantum L. Journal of Chromatography B. 2014; 970:18-23.
Munigunti, R, Calderón, AI. Development of liquid chromatography/mass spectrometry based screening assay for PfTrxR inhibitors using relative quantitation of intact thioredoxin. Rapid Communications in Mass Spectrometry 2012; 26:2051-2056.
Mulabagal, V, Calderón, AI. Liquid chromatography/mass spectrometry based fingerprinting analysis and mass profiling of Euterpe oleracea (açaí) dietary supplement raw materials. Food Chemistry 2012; 134:1156-1164.
---