Harrison School of Pharmacy
Faculty and Staff Directory
---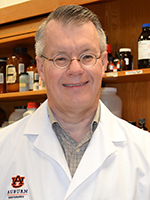 Forrest Smith
Professor
Director of Graduate Programs
Unit: Drug Discovery and Development
Auburn University
Harrison School of Pharmacy
3211j Walker Building
Auburn, AL 36849
Email: smithft@auburn.edu
Phone: 334-844-8324
Fax: 334-844-8331
---
Bio
Education
B.S. - Virginia Tech
Ph.D. - Virginia Commonwealth
Forrest Smith, Ph.D., is a Professor in the Harrison School of Pharmacy's Department of Drug Discovery and Development.
Additionally, Dr. Smith serves as the Director of Graduate Programs under the Associate Dean for Academic Programs. As part of this position, he provides vision, leadership, and day-to-day management to ensure the successful coordination, expansion, and improvement of the School's Master's and Ph.D. programs.
---
Research
Compounds which alkylate DNA have proven useful in the treatment of a variety of cancers; however these compounds suffer from numerous adverse effects including myelosuppression, nausea, vomiting, hair loss and secondary cancers arising as a result of the lack of selectivity of the currently available antineoplastic agents. Improving the selectivity of such agents and targeting specific genes has emerged as an important strategy to improve the effectiveness of alkylating agents. Our lab has been involved in the design and synthesis of minor groove alkylators of DNA with the goal of targeting specific DNA sequences and suppressing the expression of genes involved in cancer (oncogenes). To accomplish this goal we utilize a number of different molecular modeling programs to create virtual molecules and predict their binding to specific sequences of DNA. Once the synthetic targets have been identified, the compounds are synthesized in our lab. Much of the work involves the application of organic synthesis to produce the target molecules which are subsequently tested by the National Cancer Institute.
---
Selected Publications
Synthesis of 1,2,3,12a,12b Hexahydro cyclopropa[1,2¬-d]benzo[f]pyrrolo[1,2 b] isoquinolin 5,7 dione Related to Duocarmycins and Anthramycin. Atigadda Venkatram, Tara Colley, Jack DeRuiter, Forrest Smith* Journal of Heterocyclic Chemistry, 2005, 42, 297-301.
---