Harrison School of Pharmacy
Faculty and Staff Directory
---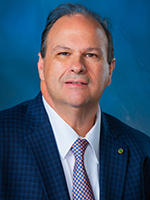 Gary Piazza
Department Head
W.W. Walker Professor
Department: Drug Discovery and Development
Auburn University
Harrison School of Pharmacy
3306g Walker Building
Auburn, AL 36849
Email: gap0034@auburn.edu
Phone: 334-844-7409
Fax: 334-844-8331
---
---
Bio
Education:
B.S., Biology and Psychology - Dominican University, 1981
Ph.D., Pharmacology - Alabama-Birmingham, 1985
---
Dr. Gary Piazza joined the Harrison School of Pharmacy as Department Head and W.W. Walker Professor in the Department of Drug Discovery and Development on March 23, 2021. A highly-respected cancer investigator with more than 30 years in the field, Piazza came to Auburn after 10 years at the Mitchell Cancer Institute at the University of South Alabama.
In his most recent role, Piazza served as professor of oncologic science and pharmacology, program director of chemoprevention and experimental therapeutics and chief of the Drug Discovery and Development Research Center at South Alabama's Mitchell Cancer Institute. With his wealth of experience in cancer research, Hansen is enthusiastic about his addition to the school's faculty.
Piazza is a 1981 graduate of Dominican University in Chicago, earning a bachelor's degree in biology and psychology. He then moved to Alabama and completed a Ph.D. in pharmacology from the University of Alabama-Birmingham in 1985.
Upon graduation, Piazza completed postdoctoral training at the Fox Chase Cancer Center in 1987. He then served as a research assistant professor at Brown University from 1989-91.
Piazza entered the pharmaceutical industry with the Proctor and Gamble Company in Cincinnati as a staff scientist from 1991-95 and as director of biology with Cell Pathways, Inc. in Denver from 1995-2001. He then returned to academia as director of pharmacology at the Institute of Drug Development and adjunct associate professor at the Texas Health Science Center in San Antonio from 2001-03.
From 2003-11, Piazza joined Southern Research where he served as the principal investigator and program director for a National Institutes of Health Molecular Libraries Screening Center and adjunct professor in the University of Alabama at Birmingham until 2011. From there, Piazza moved to his most recent appointments at the University of South Alabama.
Piazza has been awarded numerous National Institutes of Health/National Cancer Institute grants as a principal investigator with at least three R01s running concurrently since 2011. He has a broad research background in cancer biology with interests in anti-cancer drug discovery and development.
He has more than 130 publications and is an inventor on numerous patents. Three distinct classes of experimental anticancer compounds emerged from this research that are in various stages of preclinical development. The compounds selectively inhibit the activity of oncoproteins such as RAS or β-catenin that are mutated and drive numerous malignancies, including colon, lung, ovarian, breast and pancreatic cancers. Piazza is also a Fellow of the National Academy of Inventors and co-founder of ADT Pharmaceuticals LLC.
---