Harrison School of Pharmacy
Faculty and Staff Directory
---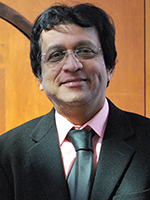 Vishnu Suppiramaniam
Gilliland Professor
Director of Research Development and Support
Units: Drug Discovery and Development, Research
Auburn University
Harrison School of Pharmacy
151 Pharmacy Research Building
Auburn, AL 36849
Email: suppivd@auburn.edu
Phone: 334-844-8396
Fax: 334-844-8331
---
---
Bio
Education:
D.V.M. - Madras Veterinary College/Tuskegee, 1985
M.S., Pharmacal Sciences - Auburn, 1989
Ph.D., Biomedical Sciences - Auburn, 1993
---
---
Dr. Vishnu Suppiramaniam joined the Department of Drug Discovery and Development in 2001. In addition to his faculty role, Dr. Suppiramaniam is also the Director of Research Development and Support within the Division of Research. In that role, he fosters opportunities for all faculty members in the school to participate in funded research activities and ensure that every faculty member in the school has the skills, knowledge, tools, and support needed to become a funded researcher.
---
The major focus of my research centers around synaptic mechanisms of learning and memory. Specifically, to elucidate the regulation of glutamate receptor mediated synaptic transmission in animal models of diseases such as Alzheimer's disease, epilepsy and diabetes, and the use of experimental drugs to ameliorate the synaptic dysfunction and associated neuro-behavioral deficits in these disease states.
We use variety of electrophysiology techniques such as single channel recording, whole cell patch clamp methodology using acutely isolated and organotypic hippocampal slices, synaptic plasticity measurements (LTP/LTD - vitro and in vivo), neuro-behavioral techniques and bioche mical assays (protein/gene expression, immunohistochemistry) to address how changes in single receptor channel function in the synapse will alter cellular and regional functions in the brain and thereby modify the behavior of the animal. In addition, we also study the molecular mechanisms of synaptic and behavioral deficits associated with prenatal alcohol and nicotine exposure.
Our laboratory was the first to develop a unique methodology to directly measure single channel properties of glutamate (AMPA/NMDA) receptors located in the synapse (Suppiramaniam et l., 2006). We utilize this methodology to elucidate the functionality of single ion channel in the synapse in certain neurological diseases and the effect of specific drugs that can ameliorate the functional deficits in these pathological conditions.
---
Selected Publications:
Parameshwaran, K., Dhanasekaran, M., and Suppiramaniam V. Amyloid beta peptide and glutamatergic synaptic dysregulation. Exp Neurol. 2008 Mar; 210(1): 7-13
Kanju, P.M., Parameshwaran, K., Sims, C., Bahr, B.A., Shonesy, B.C. and Suppiramaniam V. Ampakine CX516 ameliorates functional deficits in AMPA receptor in a hippocampal slice model of protein accumulation Exp Neurol. 2008 Jul 18. [Epub ahead of print]
Wijayawardhane, N., Shonesy, B.C., Vaithianathan, T., Pandiella, N., Vaglenova, J., Breese, C.R., Dityatev, A. and Suppiramaniam V. Ameliorating effects of preadolescent aniracetam treatment on the prenatal ethanol-induced impairment in AMPA receptor activity. Neurobiol. Dis. 2008 Jan; 29(1): 81-91.
---