Harrison College of Pharmacy
Faculty and Staff Directory
---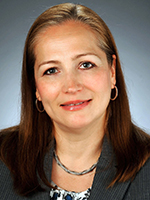 Yulia Maxuitenko
Associate Research Professor
Unit: Drug Discovery and Development
Auburn University
Harrison College of Pharmacy
347 Pharmacy Research Building
Auburn, AL 36849
Email: yym0001@auburn.edu
Phone: 334-844-8516
Fax: 334-844-8331
---
Bio
Education:
Ph.D., Pharmacology and Toxicology - Dartmouth College
---
Dr. Yulia Maxuitenko has a broad background in pharmacology and toxicology with expertise in drug discovery and development of anticancer compounds. She received her Ph.D. degree in Pharmacology and Toxicology from Dartmouth College, followed by post-doctoral position at Dartmouth Medical School prior to joining Southern Research Institute in Birmingham, Alabama.
For the following 16 years Dr. Maxuitenko worked in the Cancer Therapeutics and Immunology Department where she became an expert in the evaluation of potential anticancer drugs with the emphasis of the use of preclinical animal models to predict clinical outcomes, and served as a study director on over 1,200 studies. In addition, she gained experience in other disease animal models such as chemoprevention, arthritis, and multiple sclerosis. Dr. Maxuitenko conducted preclinical evaluations of such chemotherapeutic drugs as Halaven® (for the treatment of metastatic breast cancer), Nexavar® (for the treatment of hepatocellular and renal cell carcinoma), Clolar® (for the treatment of pediatric refractory acute lymphoblastic leukemia), and Tysabri® (for the treatment of relapsing forms of multiple sclerosis).
During her tenure at Southern Research Institute she held positions of increasing responsibility and was a manager of the In Vivo Therapeutics Group, directing all animal anticancer testing performed at Southern Research Institute for government, academia, and pharmaceutical industry. Further, she joined Biscayne Pharmaceuticals Inc. in Miami, Florida as a Director of Pharmacology and Toxicology to lead the preclinical development of the company's anticancer compound discovered by Dr. Andrew V. Schally, a Nobel laureate and pioneering endocrine drug developer. There she directed preclinical contract research organizations in the conduct of the IND-directed studies including efficacy, safety toxicology, pharmacokinetics and bioanalytical studies.
At University of South Alabama, Dr. Maxuitenko was responsible for the design, conduct, data analysis, and review of all animal studies conducted at Drug Discovery Research Center and by all external collaborators. She will continue in this role at Auburn University.
---