Harrison College of Pharmacy
Faculty and Staff Directory
---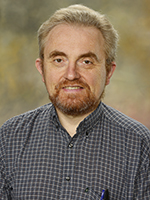 Alexei Kisselev
Associate Professor
Unit: Drug Discovery and Development
Auburn University
Harrison College of Pharmacy
357 Pharmacy Research Building
720 South Donahue Drive
Auburn, AL 36849
Email: afk0006@auburn.edu
Phone: 334-844-7356
---
Bio
Education:
Ph.D. - Moscow State University (Russia), 1995
---
Dr. Alexei Kisselev joined the Harrison College of Pharmacy faculty on August 1, 2017. A native of Moscow, Russia, he received his masters degree in Chemistry with Honors, and a Ph.D. from Moscow State University. His doctoral thesis research on HIV protease was carried out at the Max-von-Pettenkofer Institute at the University of Munich in Germany.
In 1995, Dr. Kisselev accepted a postdoctoral position at Harvard Medical School. Under the mentorship of one of the founders of protein degradation field, Alfred Goldberg, Dr. Kisselev focused on proteasome mechanism, and initiated his work on proteasome inhibitors. In 2004, Dr. Kisselev started his own laboratory at the Norris Cotton Cancer Center, the NCI-designated Comprehensive Cancer Center, at the Geisel School of Medicine at Dartmouth College. After 13 years on Dartmouth faculty, Dr. Kisselev joined Auburn in 2017.
The Kisselev laboratory at Dartmouth focused on targeting different active sites of the proteasome for the treatment of cancer. Proteasomes are giant multi-subunit proteolytic enzymes, which degrade abnormal (e.g. damaged and misfolded), and no longer needed proteins, and thus play essential role in protein quality control. Furthermore, proteasome carry out targeted destruction of numerous regulatory proteins such as cell-cycle regulators and transcription factors and thus play an indispensable role in the regulation of many biological processes. Faster growth rates and higher rate of production of damaged proteins in cancer cells create high load on proteasomes, rendering them more sensitive to proteasome inhibitors than normal cells. The load on the proteasomes is especially high in multiple myeloma, and three proteasome inhibitors, bortezomib (Velcade), carfilzomib (Kyprolis), and ixazomib (Ninlaro), are approved by the FDA for the treatment of this bone marrow malignancy.
Although most patients respond to these agents, the majority develop resistance. Multiple myeloma remains incurable, with median survival of ~7 years. Proteasome degrade proteins by a concerted action of multiple active sites. FDA-approved inhibitors block beta5 sites. The Kisselev laboratory developed specific inhibitors of beta1 and beta2 sites, and found that beta2 compounds strongly sensitize myeloma and solid tumor cells to the FDA-approved inhibitors, and restore sensitivity in resistant patients. The current goal is to develop these inhibitors into novel treatments of cancer.
Another major goal of the laboratory is to extend the clinical utility of proteasome inhibitors to the treatment of various hematologic malignancies and solid tumors. In addition to combining ß2 inhibitors with FDA-approved proteasome inhibitors, we are trying to improve our understanding the molecular basis of sensitivity.  We seek to identify novel targets for combination treatments, and to increase therapeutic window of proteasome inhibitors by selectively targeting proteasome inhibitors to tumors.  
Dr. Kisselev has mentored numerous undergraduate students, many of whom went on to receive Ph.D. from prestigious institutions (e.g., Dartmouth, Imperial College London), and several graduate students and post-doctoral fellows. The laboratory has openings for graduate students and for undergraduates strongly interested in research careers.
In addition to performing research in the academic setting, Dr. Kisselev serves as a Chief Scientific Officer of InhiProt, an early stage drug discovery company he founded. The goal of the company is to translate the discoveries of the Kisselev laboratory into new treatments for cancer patients.
---