Harrison College of Pharmacy
Faculty and Staff Directory
---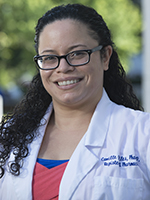 Camille Quiles
Ambulatory Care Pharmacist I
Unit: Clinical Affairs and Outreach
State Wellness Center
SEIB Pharmacy
101 South Union Street
Montgomery, AL 36104
Email: czq0002@auburn.edu
Phone: 334-263-8470
Fax: 334-263-8660
---
Bio
Education:
B.S., Food Science and Human Nutrition - Florida, 2006
Pharm.D. - Florida, 2011
---
Camille Quiles is the ambulatory care pharmacist for the State Wellness Center. She joined the staff on July 14, 2014. In that position, she is charged with delivering pharmacy clinical and ambulatory care services at the State Employee Insurance Board (SEIB) State Wellness Center. That includes performing biometric screenings for SEIB beneficiaries and their dependents, providing various immunizations, and providing a number of pharmacy-related clinical services, such as diabetes and weight management, tobacco cessation, anticoagulation, and medication therapy management services.
A double graduate of the University of Florida, she earned her bachelor's degree in food science and human nutrition in 2006 and her doctor of pharmacy in 2011. Upon graduation, she completed a PGY-1 ambulatory care residency with Azalea Health in Palatka, Florida.
Dr. Quiles received her board certification in ambulatory care pharmacy (BCACP) in 2018. She is also a certified provider of Pharmacy Medication Therapy Management and Patient-center Diabetes care. She is also an active member of the American Pharmacists Association (APhA). She is also active on the committee for the annual Alzheimer's Association Walk to End Alzheimer's as well as an Alzheimer's Association community educator.
---