Harrison School of Pharmacy
Faculty and Staff Directory
---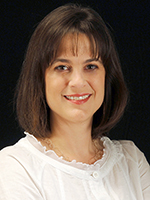 Pamela Stamm
Associate Professor
Unit: Pharmacy Practice
Auburn University
Harrison School of Pharmacy
4201e Walker Building
Auburn, AL 36849
Email: stammpl@auburn.edu
Phone: 334-844-8283
Fax: 334-844-4019
---
---
Bio
Education:
B.S., Pharmacy - Saint Louis
Pharm.D. - Medical College of South Carolina
---
Pamela L. Stamm, Pharm.D., CDE, BCPS, BCACP, FASHP, is an Associate Professor in the Department of Pharmacy Practice. She received her Bachelor of Science in Pharmacy from Saint Louis College of Pharmacy in St. Louis, Missouri. She subsequently attended the Medical University of South Carolina, Charleston, South Carolina to complete her Doctor of Pharmacy degree. She rounded off her formal training by completing an ASHP-accredited Primary Care Residency at The Medical Center and Lakeland Family Practice, Jackson, Mississippi. She joined the faculty of Auburn University's James I. Harrison School of Pharmacy in 1997.
Dr. Stamm has been responsible for various primary care topics within the curriculum throughout her career at Auburn. Currently she utilizes active learning methods to teach migraine, osteoporosis, and stable ischemic heart disease therapy within the practice ready curriculum. She also assists in immunization practicals and journal analyses.
She provides Advanced Practice Experiences (APPE) and Introductory Pharmacy Practice Experiences (IPPE) in Ambulatory Care within the Central Alabama Veteran's Health Care System where she is privileged with prescriptive authority to provide comprehensive care management for patients. Her scope of practice is broad including but not limited to areas such as Diabetes, Dyslipidemia, Hypertension, Gout, Thyroid, Neuropathic pain, Heart Failure, and Smoking Cessation. She is also Board Certified in Pharmacotherapy and Ambulatory Care Pharmacotherapy as well as Immunization Certified. Her research areas include, SOAP documentation, using video to improve learning, assessing and improving student intervention documentation, and career portfolio development.
Dr. Stamm remains active on the state and national level in several professional societies. She is active within the Alabama Society of Health System Pharmacists, currently serving as co-chair of the Student / Resident Activities Committee and as a member of the Research and Scholarship Committee.
Nationally, she serves on the American Society of Health-System Pharmacists (ASHP) Section of Ambulatory Care Practitioner's Medication Therapy Management Special Advisory Group and the Foundation's Forecast Advisory Committee. She also serves on American College of Clinical Pharmacy's (ACCP) Educational Affairs B Task Force, on the Education and Training Practice and Research Network's Professional Affairs Committee, and as faculty for the ACCP Teaching and Learning Academy.
---